See the full potential of the Canon Eye Care technologies at ESCRS 2017
In Europe's most influencing congress alongside with a trade exhibition, the European Society of Cataract and Refractive Surgeons (ESCRS), Canon is demonstrating its OCT Angiography software.
Canon OCT Angiography software will be demonstrated at our booth, alongside with the live presentations and testimonials of respected speakers. Additionally, the full line up of retinal cameras and measurement equipment will be showcased.
Visit Canon at the leading ophthalmology events in Europe, at the congress of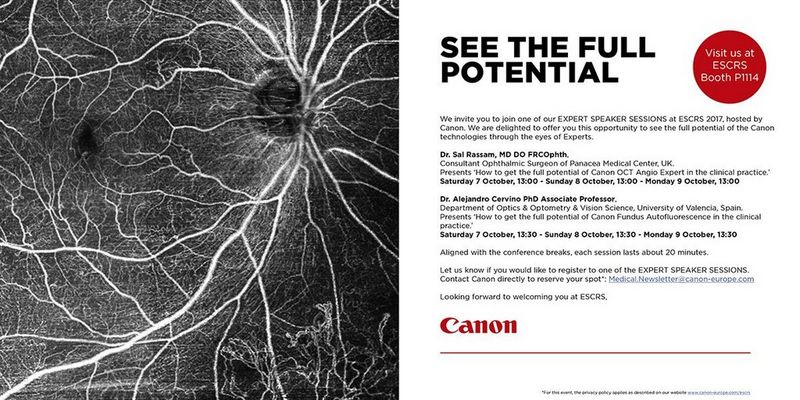 Expert Speaker Sessions
This year again we grand high profile medical experts to give presentations on our booth on ESCRS, P1114. The Expert Speakers shows you the full potential of our OCT Angio and Fundus Imaging:
Dr. Sal Rassam, MD DO FRCOphth, Consultant Ophthalmic Surgeon of Panacea Medical Center, UK; Demonstrates how to get the full potential of Canon OCT Angio Expert in the clinical practice.
Saturday 7 October, 13:00 - Sunday 8 October, 13:00 - Monday 9 October, 13:00
Dr. Alejandro Cervino, PhD, Associate Professor, Department of Optics & Optometry & Vision Science, University of Valencia, Spain; Demonstrates how to get the full potential of Canon's Fundus Autofluorescence in the clinical practice.
Saturday 7 October, 13:30 - Sunday 8 October, 13:30 - Monday 9 October, 13:30 Aligned with the conference breaks, each session lasts about 20 minutes.

Contact us directly to reserve your spot for one of the EXPERT SPEAKER SESSIONS: Medical.Newsletter@canon-europe.com
Event details
ESCRS http://escrs.org/lisbon2017/registration.asp
Privacy statement
When registering for the Canon Expert Speakers Sessions or visiting our booth at ESCRS, specific conditions and privacy statement apply. Read here our privacy statement.

Privacy statement >
About Canon in Eye Care
At Canon we strongly believe that technology has a key role to play in making organisations more patient centric and improving quality of care.
Today, Canon's extensive line of ophthalmic diagnostic equipment spans cutting-edge optical coherence photography solutions, digital retinal imaging systems, fully automatic Ref-Keratometers and Tonometers, as well as associated intuitive control software to enhance patient care.
Canon's advanced diagnostic instruments expand the limits of retinal photography and improve the quality of vision care.