EOS 1200D
Capture the emotion of the moment, with a DSLR camera that's easy to use and delivers results you'll love.
Benefits
Record life's special moments with high quality photos and movies
Capture detail and ambience, even in dark conditions
Shoot with the right settings using Scene Intelligent Auto mode
Simple step-by-step Feature Guide and EOS Companion app
Enhance your memories and be artistic with Creative filters
Detailed Features
Take a more detailed look into the Canon EOS 1200D
Photos you'll be proud of

Shoot photos and video with a quality and character all of their own. 18-megapixel images from the EOS 1200D are packed with detail and are large enough to be printed at sizes up to A2+. Videos have a professional look and feel that looks great played back on your home HDTV.


Capture memories even as it gets dark

When light levels get low the EOS 1200D boosts its sensitivity to light so your pictures stay sharp and you can reduce the need to use flash. Shooting with ambient light is a great way of capturing the atmosphere of an occasion, and remaining discreet for those priceless moments and natural expressions.


Easy to use for any subject

When you compose a photograph using the EOS 1200D the camera analyses the scene too, looking for brightness, colour and the presence of movement and faces. This information is used to set the most appropriate camera settings for the scene, whether it's a detail-packed landscape or fast-moving action. A built-in Feature Guide, and supporting app, help you learn more about your camera whenever you want.


Discover DSLR photography with EOS Companion app

Use the accompanying EOS Companion app to explore the features and controls of your EOS 1200D and learn about how different lenses can deliver new creative options and capture different subjects. Interactive tutorials and assignments will inspire you and help you develop your skills.


Ergonomic design you'll love to use

An optical viewfinder allows you to compose and anticipate your shot, so you'll always be ready to capture the emotion behind the moment. With its friendly controls that are instinctive to use, and a large 7.5cm (3") LCD screen for image review, the EOS 1200D is a joy to use.


Express your creative side

Emphasise the main subject in a photo by isolating it against a soft, blurred background – a look characteristic of DSLR photography. Use one of five Creative filters to add a personal touch to your photography, including Grainy Black & White to Toy Camera and Fish Eye effect.


Stay in focus

Keep subjects looking sharp by placing them underneath one of the EOS 1200D's nine focusing points. These are spread out across the viewfinder, letting you place your subject either in the middle of the frame or off-centre, for a more interesting composition.


See the world through different eyes

Change your viewpoint and capture different subjects as your photography progresses, with the extensive Canon EF and EF-S lens ranges. Get up close with a telephoto lens, or get even more of the scene in with an ultra wide-angle zoom.
Awards
Product Specification
Find out more about the Canon EOS 1200D, its features and what it can do.
Automatically analyse your scene and select the best settings
Get confident with your camera and learn about photography with this free app
Choice of AF points for creative framing
Continuous shooting up to 3 frames per second
Powerful DIGIC processing
Large bright screen for clear viewing
Easily create engaging movies
Apply creative effects to your images
Easily apply a look to your shots in the Basic zone
On camera guide to help you learn
Experiment with the EOS System
Canon Photo Companion App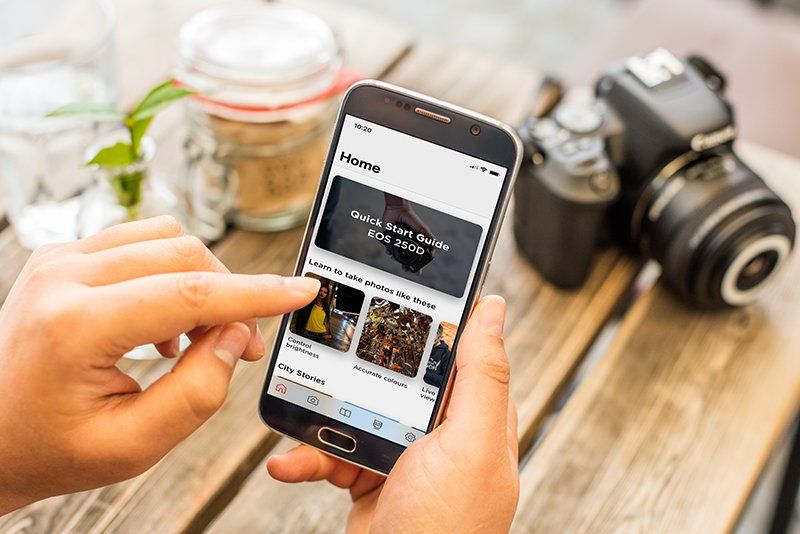 The ultimate partner to any visual storyteller, our Photo Companion app gives you access to tailored, expert knowledge and content when you need it most – so you can truly bring your stories to life.
or